Pattern Making Services…For Apparel, Accessories, Medical, Safety, Automotive...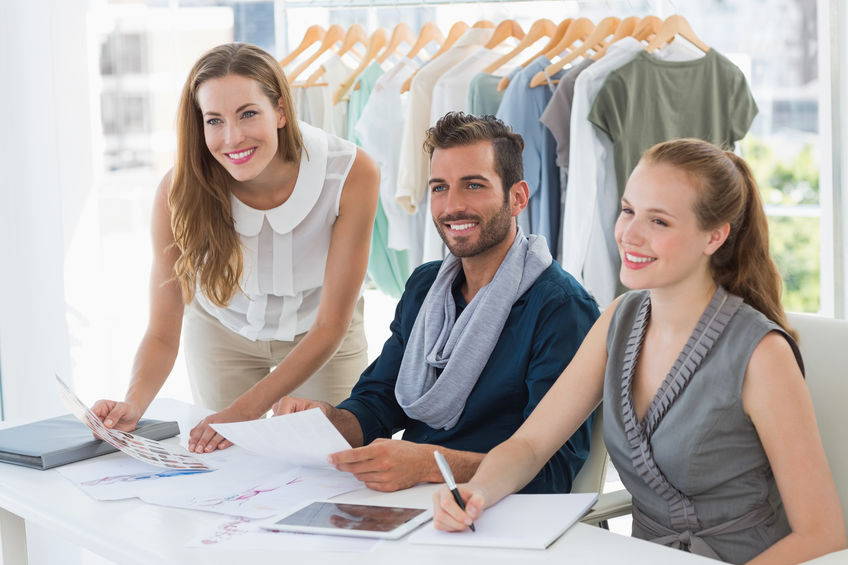 Our team of experts will transform your fashion ideas into precise patterns – and bring your ideas to life. Smart Pattern Making brings 25 years of experience in garment design to the table. You can trust that your design project is in capable hands.
Our business, located in the heart of downtown LA, has all the technological resources on hand necessary to produce any design you can imagine. Combine that with a knowledgeable team with a deep understanding of design and the sky is the limit.
If you need pattern drafting for t-shirts, dress shirts, pants, shorts, dresses, skirts, bikinis, and so much more – look no further.
[Let's Get Started Today]
Pattern Designing Software
When it comes to the technology you need to create your designs, you want to rely on the best CAD pattern designing software to build them. Our Gerber CAD system pattern making services are used by the world's leading apparel brands all over the globe.
Why risk making your designs with CAD software that has no tools or the functionality to  export your designs to other fashion CAD systems and waist more money remaking them due to unrecognized format or error messages.
Your designs will be in a readable format so your domestic or overseas manufacturing company will have no trouble importing your designs into their Gerber CAD systems and we can convert your designs to other formats available here.
Old were the days when we all had to do our patterns by hand and we had to use pattern drafting paper to make them. Buying pattern making supplies and pattern making rulers were a must have requirement for any pattern maker who wished to design a pattern.
40 years later and in today's world we have replaced all our pattern makers supplies by digital pattern making tools which tuned the fashion industry world into a massive fast production machine by increasing their productivity and meeting the demand for new fashion products. 
Pattern Making In Sewing
In the garment and sewing industry pattern making is a craft that is done by pattern makers who specialize in the art of making sewing patterns for a particular design or product.

A pattern also called a template is traced onto paper to later be cut out of fabric for assembly into the finished article: a dress pattern.

Pattern making in sewing is an essential part of garment manufacturing and sewing patterns are made in different type of materials including plastic boards, cardboard, manila paperboard, etc...
by Andrew Neel 
Pattern Making Apparel Products
Do you have an e-commerce operation? Are you selling apparel – bikinis, shirts, skirts, dresses, pants? Need help developing your prototype patterns to get your business rolling?
We've helped a lot of satisfied customers – including top brands and designers around the world, like Guess, 7 For All Mankind, Agave Denim, Azteca, Alona Apparel, Inc., William Rast, Pacific Sunwear, NYDJ Apparel, Page, Hudson Jeans, XCVI, Rags, and Mother Denim.
And Smart Pattern Making can definitely help you with all your pattern making needs, too. 
[We're Ready to Assist You With Pattern Making Right Away]
Clothing Patterns Accessories
Do you have a boutique store – online or off-line – selling handbags, towels, eyeglass pillows, drawstring pouches for smartphones or eyeglasses? Then you just might need a professional accessory pattern making service to help create all your products and designs.
We've created thousands of fashion products, like handbags, beachwear, eyewear, and smartphone accessories for over a decade. And we can do the same for you…creating professional-grade accessory prototype patterns.
[Contact Us For All Your Pattern Making Accessory Product Solutions]
Clothing Patterns Furniture Covers
Create your own styles and designs for furniture covers. If you are looking to develop pattern making prototypes for sofas, recliners, pillows, curtains, tables…and anything else you can think of – we make it quick and easy!
We provide pattern making solutions for all your furniture needs whether you are a furniture manufacturer, deal in refurbishing furniture, or just want to liven up some prized, heirloom piece of furniture in your living room.
We give you the freedom to design your furniture covers with the fabric of your choice to make that sofa or chair stand out just the way you envisioned.
[For A Hassle-free Pattern Making Experience – Contact Us]
by Devon Divine
Clothing Patterns Automotive 
We are here to assist the automotive market, too – especially if what you are looking for are car floor mat and seat cover patterns.
It's as easy as this: You have a sketch and some dimensions and need a prototype of a seat cover for a classic car that's been out of production for as long as anyone can remember. Get in touch with us, and we'll help create the perfect pattern for any car that you have in mind. And you can use that pattern again, and again.
We can turn all your automotive interior ideas into a reality thanks to our state-of-the-art CAD pattern making system.
[Automotive Interior Pattern Solutions Right Here – Contact Us]
The Pattern Making Process In 5 Easy Steps – Bringing Your Ideas To Life
We ensure that the pattern making process is much easier than you could imagine. We can take your idea and turn it into a reusable pattern prototype in 5 easy steps. The process quickly takes you from concept to production.
Step 1: Concept – Your Idea is Born
Provide us with a concept drawing or sketch that visualizes your idea and design…and we'll take it to the next level of the pattern making process. Got an actual physical sample of what you need? Perfect. We can reverse engineer an actual example of what you need and translate it into a pattern, duplicating the original design structure and other pattern components – with any modifications you want.
Step 2: The Blue Print – Your Idea Takes Shape
Our pattern makers will take your concept and turn them into precise blueprints. The blue prints-prototype patterns are the layout of the individual shapes that each piece of your design consists of. After the blueprints have been created, they are ready to be cut. Then your product is ready for…
Step 3: Choosing Materials – Your Idea Puts On Its Own Unique Look
You'll need to choose the materials necessary to start to really bring your design to life. You will supply us with the fabrics and other materials of your choice…and we do the rest.
Step 4: Making You A Sample – Getting Your Idea Just Right
Once you have supplied us with the fabrics of your choice and a pattern card or tech pack – detailing sewing instructions and seam allowances – we will build your design. We'll look it over with you and get it ready for the final stage.
Step 5: Production – Your Idea Has Become A Reality
Once all alterations and corrections are made, and you have the sample you approved – it's production time! We'll provide you with your final digital pattern design, and you're ready to bring your product to market.
[Bring Your Idea To Life – Contact Us]
by Priscilla Du Preez
Shirts And Tops Pattern Making
We can do a lot of apparel and garment-related things for you…not least of which is pattern making for all your shirts and tops designs. T-shirts, polo shirts, hoodies – you name it…we can make patterns for it.
Give us your design, or an already existing top or shirt, and we'll turn those into digitized blueprints that you can use as often as you need. Choose your fabric, and we'll take it out through to production with you.
We guaranty that you will be pleased with our pattern making service – and all the other steps in the process, too.
[Shirts And Tops Pattern Making Solutions – Ready For you Today]
by lan deng
Pants And Shorts Pattern Making
If you can design it – slim, skinny, ankle length, bell bottom, plain front, pleated, with or without pockets, low or high-waisted – we can make the pattern and blueprints for your pants design. The same goes for any kind of shorts you can dream up. 
Keep in mind that we are a one-stop shop for all your garment, apparel, and fashion needs. As with all types of garments, we can take your pants and shorts designs and get them out into the market, and flying off the racks and shipped everywhere people put on pants and shorts.
You'll be pleasantly surprised at how easy we can turn your pants and shorts designs into a quality product that people want to buy.
[Easy Pants And Shorts Pattern Making Process – We're Ready To Get You Started Right Now]
by  Tamara Bellis
Dresses Pattern Making
Since we opened the doors to our business here in Los Angeles some 25 years ago, we have seen one happy customer after another…and they keep coming back to us. And there's a good reason for that.
As with all garments, we make sure your patterns for dresses are done right. We'll do everything to make sure that the dress pattern making stage is done right, and that you are entirely satisfied. Please note: Your opinion counts! And we want to assure that you have nothing but the best opinion of our dresses pattern making services.
[Increase Dress Making Productivity – Right Now!]
by Amelia Bartlett
Skirts Pattern Making
So, you have the next big idea for a skirt. Who knows? Maybe you'll have the ecstatic feeling of going out in public and seeing women wearing the very skirt that started as an inspired idea in your head.
What is that skirt you've designed? An A-line skirt? An asymmetrical skirt? Is it a bell-shaped skirt…a bubble, bustle, broomstick or circular skirt? It doesn't matter, because we can make a pattern of it for you, at a cost you can afford…and in a short amount of time.
by Nick Karvounis
Bikinis And Swimsuits Pattern Making
Let us make patterns for the strapless, multi-string, or high-waisted bikini you've designed. Got a sexy one-piece you're wanting to produce – send it our way, and we'll get the patterns made, grade them to fit all sizes, and see them through to production.
One of the things that makes us a valuable partner to your business is that we have all the tools and technology to make you a success. The best part…we eliminate the need (and expense) for you to have to purchase and then learn how to use all those tools and technologies.
[Affordable, Hassle-free Bikini And Swimsuit Pattern Making This Way]
-------------------------------------------------------------------------------------
Top 10 Pattern Making Questions And Answers (FAQ)s
How Easy Is It To Ship Your Design To Us For Pattern Making?
Fold all your designs or samples that you want to have patterns made for.
Draft a "detail sheet" describing changes or requirements you have for each of your designs or samples. Example: "Please make a pattern for the blue shirt design, but do not include the front pocket in the pattern."
Put it all in a box. Make sure the box is sealed and mail it to us – or bring it by if you are in Los Angeles.
Please be sure to check out all the other services we offer like, Pattern Grading, Marker Making, Pattern Digitizing, Marker Plotting, and DXF Converting, and Business Strategy Consultation…all necessary components to a successful apparel and garment business.
What makes us the best go-to resource for all of your garment-apparel needs?
We're are an all-inclusive garment business platform – a one-stop shop! There's no need to be dashing around, trying to coordinate multiple garment and apparel services.
We'll save you money and time. Our services are specifically tailored for those who want to bring a design to production but don't have the huge budget to pay a bunch of salaries reaching into the thousands of dollars.
We have all the tools and technology right here at your disposal to get your fashion products developed and out into the world.
Other businesses similar to ours offer static, one-size-fits-all services. Our services and products are designed and developed with the
specific, individual needs of our customers in mind
. You can count on us to deliver personalized attention to hone in on your particular garment and apparel needs, pre-production and beyond…
Can you construct patterns from samples?
Yes, we can. Selecting a pre-existing sample that has the fit, silhouette or style that you like to build your design is a great way to start the development process.
Please keep in mind however, that the new design that you are trying to build must be similar in weight, type of fabric, and seam placement.
Cutting your pattern in a fabric that is not similar to your sample's fabric type will not work on your newly created pattern. Example: your sample is a Knit fabric men's shirt and your sample yardage fabric to cut your new pattern is a woven fabric. 
 Do you offer pattern making packages?
Yes, We do. We are currently offering 3 types of packages  that can be fully customized according to your own pattern making designing needs.
Do all packages include the same services?
Yes, All packages include the same services.
How do I add extra services or add on(s)?
When selecting a package you will have the option to add any extra services that you might need just contact us with your add on(s) request and we will add those services to your package.
Do you sell or provide fabric for my designs?
No, we do not sell or do fabric sourcing for any of our clients. Fabric sourcing is a job in itself and is done usually by the designer or company that wants to create a design.
Do You provide all the trims for my designs?
No, we do not provide any type of trims. You need to provide us with all the necessary components for your design or project before we can start the design process. We do not sell any type of trims.
What makes us the best go-to resource for all of your garment- apparel needs?
We're are an all-inclusive garment business platform – a one-stop shop! There's no need to be dashing around, trying to coordinate multiple garment and apparel services.

We'll save you money and time. Our services are specifically tailored for those who want to bring a design to production but don't have the huge budget to pay a bunch of salaries reaching into the thousands of dollars.

We have all the tools and technology right here at your disposal to get your fashion products developed and out into the world.

Other businesses similar to ours offer static, one-size-fits-all services. Our services and products are designed and developed with the specific, individual needs of our customers in mind. You can count on us to deliver personalized attention to hone in on your particular garment and apparel needs, pre-production and beyond…

Looking for more tools to grow your business?

☷ BROWSE ALL SERVICES